December 17
Borusan Quartet and Vienna Classics / 20.00 / Süreyya Opera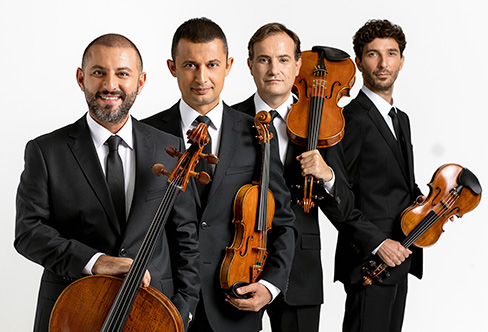 Houseborusan quartet – vienna classics
Let's wipe out your ears on Monday. Turkey's most successful Borusan Philharmonic Orchestra, pearls, one of the quartet, Esen Kıvrak, Özgür Baskın, Efdal Altun and Çağ Ercağ's Borusan Quartet, Vienna in the second concert of the classic series will perform Mozart and Beethoven's works.
Also, while visiting Kadıköy, read our article below, maybe you can take a tour in Moda:
Moda Places to visit
18 December Tuesday
Damdaki Kemancı / 20.30 / Zorlu Psm   
This month we have a musical in our guide. Zorlu PSM's 64 First Turkish Musical 'production, "Damdaki Kemancı" was first performed in Broadway in 1964. In our country, for the first time in 1969, staged Damdaki violinist, Cüneyt Gökçer'ın starring the production, met with art lovers for about 20 years.
The story takes place in a small village called Anatevka during the crisis of Tsarist period of 1905. The events of Fakir Sütçü Tevye and his family shed light on the transformation of the society of the period and the difficulties that the Jewish community experiences. Mehmet Ali Captains Tevyeüyi, Tevyeins wife Golde as the role of Billur Kaya.
Event tickets are available here.
19 December wednesday
Karsu / 20.30 / Babylon
Istanbul December event calendar Karsu became the first Turkish artist to win Edison Jazz World. Karsu at the beginning of the piano at the beginning of the piano with the songs that are covered by each wire will give you a delicious night.
Thursday December 20
Pychedelia Night: Fontän, Islandman, Mousike /20.30 / Babylon
A Premiere with the Labèque / 20.00 / İstanbul Lütfi Kırdar
Good news for lovers of psychedelic music! Babylon is holding a big night. Fontän has been selected as the best in 2017 with the album they released 8 years later in Scandinavia. Our indigenous and national psychotherapists yapanki Montreux were selected as the best departing band of the Jazz Talent – Islandman; Surprise Mousike, Babylon scene will give you a fun night.
Energetic or energetic sisters are coming to Istanbul again. We will listen to Strauss and Beethoven at the concert, which is held with a joint order of London Philharmonic, Dresden Philharmonic, Orquesta Nacional de España, Orchestre de Paris and Borusan Istanbul Philharmonic Orchestra. We will also listen to the concerto he wrote for this premiere Dessner which will be held for the first time in Turkey. Don't miss the premiere which will take place in our city for the first time.
Friday, December 21
The Longest Night Party: Oceanvs Orientalis / 23.55 / Zorlu Psm
Omar Souleyman / 21.30 / Zorlu Psm
Omar souleyman – istanbul interval event calendar Zorlu PSM is having a great party for the 21st of December, called "En Uzun Gece".
The most beautiful electronic music project from Turkey in recent years Oceanvs orientalis, founded by Şafak Öz. In September 2018, the Dance of Sounds album presents its audience with the aesthetics of electronic music. If you're away from this type of music, Oceanvs Orientalis can be a great start for you. Listen to the song called "Tarlabaşı".
Another concert in Istanbul, Omar Souleyman. He was a member of the Glastonbury Festival Line-Ups. A Syrian DJ. The first musician who came to mind recently in electro-pop has also taken the stage in nobel prizes. It is not much like many of the fans, so to speak listeners from Turkey divides Souleyman, again coming to our city.
December 22 Saturday
Fazıl Say .30 "Truva Sonatı" Istanbul Premiere / 20.30 / Wolkswagen Arena
Maktub By Satori / 22.00 / Beykoz Kundura
Fazıl say – istanbul December events
Fazıl Say will be at the Volkswagen Arena, where the awesome work will be the premiere of the Trojan Sonata. As part of the Trojan Year, Say, who has composed a 40-minute piano sonatar consisting of 10 chapters upon the order of Çanakkale Municipality, will interpret the works of famous composers as well as the Truva Sonata. Yekta Kopan will perform an interview with the artist on sonata.
Fazıl Say concert tickets are available here.
This evening's other activity in Istanbul Maktub by Satori. Satori will be presenting his latest project Maktub göru in Beykoz Kundura. One of the most prominent musicians of recent times, Satori from Amsterdam will have a visual show with his music overnight.
Sunday, December 23
Candida Höfer Exhibition / Dirimart
Winter market / 12.00- 22.00 / Feriye Palace (22-23 December)
istanbul range events – christmas markets
Dirimart hosts Candida Höfer's exhibition titled "Zaman, Mekan ve Yerler". Hofer's 74-year-old photographer, will be able to see pictures of the serial Turkey and Turks in Turkey in Germany.
In addition, the exhibition will include a selection of photographs of the interiors of public or private buildings, such as libraries, museums, waiting rooms, concert halls, and bank archives. Hofer will be the first solo exhibition in Turkey. Very valuable and unmissable exhibition. You must see. You can see the exhibition in Nişantaşı and Dolapdere places of Dirimart.
Feriye Palace has a warm event: Winter Market. The event will be spread over two days, workshops, tastings and as the name suggests shopping will be axis. If you want to spend a hot market on the banks of the Bosphorus, please visit before or after the exhibition.
The market opens at 12.00 as stated above. If you wish we could have chosen to go on a Saturday (22 December), we would have suggested the Winter Market for you today. (Don't forget to buy something from him:) Have fun already.